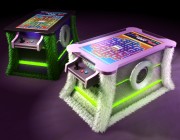 "CasinoKat" is a Casual Skill-Based Gaming machine designed for players who want to have fun!
Las Vegas, Nevada, September 10, 2015 (Newswire.com) - ​​​NanoTech Gaming (OTCPINK: NTGL), announces the upcoming landmark debut of "CasinoKat​" at the Global Gaming Expo (G2E) at the Las Vegas Sands Convention Center, September 29th through October 1st.
"CasinoKat​​" is a fast-paced, fun, furry gambling machine with classic arcade maze-chase gameplay. Inspired by one of the world's most recognizable video game for more than 30 years, players have the chance to relive the excitement of 80's arcades with a modern presentation, and an opportunity to have their skill influence their chance to win real money.
"CasinoKat debuts in our 40" Deluxe Cocktail cabinet... featuring an HD display running at 120Hz, a 4-way leaf-switch joystick, and ludicrously massive 15" subwoofer."
"Visitors to this year's G2E will have no doubt about

NanoTech

Gaming's commitment to innovation, and game development expertise when it comes to skill-based and hybrid casino games,"
said Stephen
Riesenberger
, Creative Director at
NanoTech
Gaming.
"
CasinoKat
debuts in our 40" Deluxe Cocktail cabinet, an updated tribute to another arcade classic, but featuring an HD display running at 120Hz, a 4-way leaf-switch joystick, and ludicrously massive 15"

subwoofer

. Along with contemporary Electronic Dance Music (EDM) loops, players will see, hear, and feel the energy pumping out of the game!"
The game cabinet is designed by Las Vegas local Sunkist Graphics Inc. and features their latest 'sunburst' and 'infinity' LED lighting technology. Combined with the playful, colorful in-game graphics, Sunkist Graphics' multicolored pulsing and cycling rainbow lights are certain to draw crowds at this year's G2E.
For more information, visit NanoTech Gaming at booth #4116 at G2E, and the "CasinoKat" Facebook page at: https://www.facebook.com/NTGLKat
About NanoTech Gaming
Headquartered in Las Vegas Nevada, the global center of the gaming industry, NanoTech Gaming is a revolutionary company that focuses on all aspects of the development of gaming products.  NanoTech Gaming creates the world's most compelling gaming experiences by using patent-pending math models and non-traditional designs.  NanoTech Gaming builds products for both traditional players as well as a new class of gambler that is intelligent and informed offering the ability to realize life changing winnings while continuing to offer casinos exactly the House Edge they need to operate their business.  Based on extensive research of modern social and competitive games, NanoTech Gaming's machines allow players to choose exactly how they want to balance their skill and intelligence against the risk / reward model of the game.  Players enjoy compelling video experiences that are entertaining independent of the gambling component.  More information about NanoTech Gaming and its products can be found on the web at www.NanoTechGaming.com.
"Safe Harbor" Statement:  This press release contains forward-looking statements, including expected industry patterns and other financial and business results that involve known and unknown risks, uncertainties and other factors that may cause our actual results, levels of activity, performance or achievements to differ materially from results expressed or implied by this press release. Such risk factors include, among others: the sustainability of recent growth rates in of the company; the positioning of NanoTech Gaming, Inc. in the market; ability to integrate both developed and acquired companies and technology; ability to retain key employees; ability to successfully market product offerings and customer acceptance of products; general market conditions, fluctuations in currency exchange rates, changes to systems and product strategy by vendors of systems; and whether NanoTech Gaming, Inc. can successfully gain market share. Actual results may differ materially from those contained in the forward-looking statements in this press release. Since this information may contain statements that involve risk and uncertainties and are subject to change at any time, the company's actual results may differ materially from expected results.
NanoTech Gaming Labs, NanoTech Gaming Ball, NanoTech Gaming Dice, 1337, Vegas 2047, NanoTech Advantage, NanoTech Bet Cube, Game Flow, HVS, High Limit Advantage Play, XRR, Pinball Wizard, MultiPin, Mot-Ion, OptiGun, Retr-IO, aAMP, Jumper, Masher, Casino Kat, and their associated logos are trademarks of NanoTech Gaming. "The Future of Gaming" is a Service Mark of NanoTech Gaming. All rights reserved. All other marks are the property of their respective owners.
NTGL Contact: Aaron Hightower
Phone:    (702) 577-2895
Email:     ahigh@nanotechgaming.com
Sunkist Graphics Inc. Contact: John Church
Phone:    (702) 497-2223
Email:    jchurch@sunkistgrfx.com
Share: